Personalized - Comprehensive
Quality - Integrity

CONN'S IRELAND
LIMITED TOUR SIZE
LUXURY TOUR 2017
ESCORTED BY CONN O'SCANNLAIN
9 DAYS
WEST & NORTHWEST
September 23 to October 1
CIT9WNW
LUXURY TOUR
Personalized &amp Customized
2017
ESCORTED BY CONN O'SCANNLAIN
9 DAYS
WEST & NORTHWEST 2017
September 23 to October 1
LIMITED TO 12 TOUR MEMBERS
EASY & SLOW
Personalized & Customized Escorted Tour


If You EVER Wanted To Tour With Conn,
2017 Is A Great Opportunity To Do So
Conn Will Be Celebrating His
47th Year Of Ireland Tour Planning

This itinerary is THE ULTIMATE tour of the West & Northwest of Ireland, including the popular sites and attractions and those that are Conn's favorites. You'll experience the highlights of the country in a comfortably paced itinerary. Combine that with the highest quality accommodation and you'll have a wonderful vacation. Packed with historic sites, visits and entertainment, with all the features you wanted in a tour! Conn's 45 years of personalized tour planning makes for a wonderful touring experience. Including TWO nights at 5 Star Lough Eske Castle Hotel! Rated "all 10s" by tour members! Described by former tour members as the "best planned, organized and conducted tour we have ever taken!" EASY & SLOW.

We've also INCLUDED the Driver-Guide Gratuity!!
We take the time to provide a detailed proposal for you to review before you make your decision to pay your deposit. We are not the least expensive tour product, but WE ARE THE BEST! The features and inclusions of our LIMITED SIZE TOURS are numerous. When you make your comparisons with other tour companies, take that into consideration. Our MAXIMUM 12 TOUR MEMBER TOURS are COMPREHENSIVE & COMFORTABLE, as well as an excellent value....and a very PERSONALIZED style of touring... to provide what our clients tell us are "An Irish Symphony of Perfection!"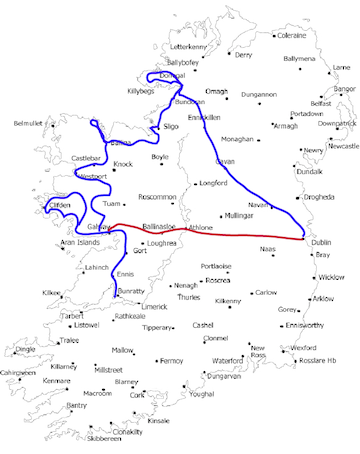 ---
COMPREHENSIVE, PERSONALIZED, COMFORTABLE
9 DAY TOUR

---
ITINERARY
Please arrange your air reservation to depart the USA on Friday, September 22 for Shannon, Ireland
If you choose to fly into Dublin we will arrange a transfer from Dublin Airport to Galway on September 23rd at no additional cost.
September 23 - Saturday
GALWAY
Arrive in Ireland at Shannon Airport. You will be met by Conn and your experienced driver-guide, Philip Smith, and tour north to Galway, a vibrant city. See Eyre Square, the Claddagh district and view the Spanish Arch. Christopher Columbus stopped here on his way to the New World. This will be a day to relax and enjoy exploring the pedestrianized streets of Galway lined with shops, boutiques, pubs and cafes. Conn has chosen the 5 star G Hotel for your stay in Galway. It is located overlooking Lough Atalia in Galway City and a short walk from Eyre Square in Galway but a world away from the hustle and bustle. Dinner in the Gigi's Restaurant this evening. Stay at the G Hotel, Galway.
Click Here to See Pictures of Luxury Motorcoach
Opens in Tabs or Use Browser Back Arrow to Return to This Page.
September 24 - Sunday
CONNEMARA EXCURSION
Irish breakfast this morning. Tour along the shores of Galway Bay with the Aran Islands in the distance. We enter the area known as Connemara with its deep blue lakes and streams, purple mountains, rock walls, and white-washed stone cottages dotting the landscape. Tour to the fishing village of Roundstone and home to Malachy's Bodhran factory where you will see how they hand-craft the goat-skin drums used in traditional Irish music. On to Clifden the market hub of Connemara. Enjoy the exhilarting views from the Sky Road as we tour along to Kylemore Lake and make a stop at Kylemore Abbey. Travel along the shores of Ireland's only fjord, Killarney Harbor and on to the Village of Leenane. Return to Galway down the picturesque Lough Inagh Valley. Return to Galway and the G Hotel. Dinner on your own tonight. Stay at The Twelve Hotel.
September 25 - Monday
CONG & WESTPORT
Irish breakfast this morning. On to Moycullen where we stop to see how the exquisite hand-crafted crystal is made. Tour up the picturesque Maam Valley and along the northern shores of Lough Corrib. The lake is dotted with hundreds of islands. On to the village of Cong, made famous in the movie, The Quiet Man, starring John Wayne. Just outside of the village is Ashford Castle, once the home of the Guinness family and now a 5 star resort hotel. Continue to Westport situated on the shores of Clew Bay. Westport is an attractive, hilly place with a very continental air. The area is noted for its famous Pirate Queen, Grace O'Malley. She lived in nearby Rockfleet Castle, which is still in excellent condition and can be visited. View Westport House whose estate adjoins the town. It was designed by Richard Cassels. It's one of Ireland's noblest mansions with a really exquisite interior. It is owned by the Maquess of Sligo, a direct descendant of Grace O'Malley. Tour on to Castlebar where during the 1798 Uprising, French General Humbert defeated the British Army who retreated south from here and it came to be known as the Castlebar Races! On to Ballina which is the largest town in County Mayo and an angling center on the River Moy. Dinner in the Riverside Restaurant this evening. Stay at the Ice House Hotel, Ballina.
September 26 - Tuesday
CEIDE FIELDS & DOWNPATRICK HEAD
Irish breakfast this morning. Tour to Ballycastle and continue along the Atlantic shore to the Ceide Fields. At Ceide Fields, turf cutting has in recent years revealed the oldest intact field system in existence. The Stone Age landscape of regular fields, dwelling areas and megalithic tombs has been preserved since the bog grew over it 5,000 years ago. Nearby at Downpatrick Head is Dun Briste where a Druid Chieftain, named Crom Dubh, lived. He refused to convert to Christianity so Saint Patrick struck the ground with his crozier and the stack was separated from the mainland, leaving Crom Dubh to die on the top. Return to Ballina via Killala Bay. Explore Ballina this evening. Dinner on your own tonight. Stay at The Ice House Hotel, Ballina.
September 27 - Wednesday
CARROWMORE &amp SLIGO
Irish breakfast this morning. Tour south to County Sligo, a county of gentle mountains, lakes and coastline. We visit the O'Scannlain family's ancestral home and farm at Bunnanaddan and enjoy one of the best Irish Coffee's in Ireland! Continue to Carrowmore Megalithic Cemetery to view passage graves that date back 7000 years! County Sligo is associated with the great writer, W. B. Yeats. Sligo Town dates to 750 years ago and has traditional shop fronts and a riverwalk. Tour north from Sligo Town making a stop at Drumcliff and the Yeats Center. Yeats is buried here in Drumcliff Churchyard. On to County Donegal and the beautiful Lough Eske. You stay this evening overlooking Lough Eske at the 5 star Lough Eske Castle Hotel. Dinner in the hotel dining this evening.
Stay at the Lough Eske Castle Hotel, Lough Eske, Donegal.
September 28 - Thursday
GLENCOLUMCILLE &amp SLIEVE LEAGUE
Irish breakfast this morning. Tour to Killybegs, Ireland's largest commercial fishing port. On to Glencolumcille, a village of thatched roof cottages and links to St. Columcille of the 6th century who founded the city of Derry. On to Slieve League and the Cliffs of Bunglass which are higher and more magnificent than the Cliffs of Moher in County Clare. Return to Rossnowlagh via Ardara, the center of the woolen industry in County Donegal. We tour into Donegal Town and visit "Woolens & Things," for tweeds and woolens. Visit 15th century Donegal Castle, with its fully restored Jacobean wing. Enjoy a chance to explore the town. Enjoy a relaxing evening overlooking Lough Eske. You stay this evening overlooking Lough Eske at the 5 star Lough Eske Castle Hotel. Dinner in the hotel dining this evening.
Stay at the Lough Eske Castle Hotel, Lough Eske, Donegal.
September 29 - Friday
BELLEEK & DUBLIN
Irish breakfast this morning. On to Ballyshannon where you cross into Northern Ireland and County Fermanagh to the town of Belleek, home of the famous Belleek China factory. Enjoy a visit to the showrooms. Continue on along the southern shores of Lough Erne to the town of Enniskillen. There is a British army military museum in the Maguire Castle. Return to the Irish Republic and on to Dublin, the capital of the Ireland arriving at the Davenport Hotel located near Merrion Square Dublin is the capital of the Irish Republic and is over 1,000 years old dating to the founding Vikings. Evening at leisure. Dinner on your own tonight.
September 30 - Saturday
DUBLIN'S FAIR CITY
Irish breakfast this morning. You'll enjoy a panoramic tour of the city. See the historic buildings, the Georgian Squares, Dublin Castle, Trinity College, St. Patrick's Cathedral, Christchurch Cathedral, Guinness Brewery followed by some free time to explore the city on your own. Do some shopping on fashionable Grafton Street.In the evening you may wish to seek out some traditonal Irish music at several of the nearby pubs. If you wish to take in a play at one of Dublin's theatres let us know and we will try and purchase tickets for you. Stay at the Davenport Hotel. Dinner on your own tonight.
October 1 - Sunday
DEPART FOR HOME
Irish breakfast this morning. Transfer to Dublin Airport. Depart for home.
Please arrange your air reservation to depart Dublin on Sunday, October 1 for the USA
Slan Leat!
---
BACK-TO-BACK TOURING: Combine with the Northern Ireland Tour
Extend your Ireland vacation and continue your touring through spectacular Northern Ireland. Ask Conn about a special discount for the combination.
Click here:
Northern Ireland Tour

Combine with the Southwest & South of Ireland Tour
Extend your Ireland vacation and contonue your touring through the beautiful Southwest and South of Ireland. Ask Conn about a special discount for the combination.
Click here:
South & Southwest of Ireland Tour

---
TOUR INCLUDES:
• Arrival and Departure Transfers
• Sightseeing by Private luxury motorcoach
• Hotel accommodation with private bath for 8 nights
• Professional driver/guide throughout the tour - from September 23 to October 1
• Full Irish breakfast daily
• Irish Coffee Reception on first evening
• Dinner included on Sept. 23,25, 27, & 28 evenings
• Dinner on your own on other evenings
• Visit to the O'Scannlain Ancestral Home in Sligo
• Visits and admissions to Kylemore Abbey, Celtic Crystal Factory, Cong Village Quiet Man
• Museum, Westport House, Ceide Fields, Carrowmore Megalithic Cemetery, Yeats Center,
• Glencolumcille Village, Slieve League, Donegal Castle, Belleek China factory
• Hotel service charges, tips for baggage handling and local taxes
• Driver-Guide Gratuity
• LIMITED TO 12 TOUR MEMBERS


• All tours personally driven and escorted by experienced driver-guide
---
Click Here to See Pictures of Tour Sites
Opens in Tabs or Use Browser Back Arrow to Return to This Page.
PAY BY CHECK DISCOUNT:
If you wish to pay the land tour price BY PERSONAL CHECK, you can deduct 3% from the Credit Card Land Tour Price shown in BLUE. Tour Deposit may be made by credit card but remaining tour balance must be paid by bank transfer to receive discount. Call us at 253 752 0448 to take advantage of this SPECIAL OFFER! Call now to book!
---
LAND TOUR PRICES ARE IN EUROS. USE CURRENCY CALCULATOR TO FIND TODAY'S USD PRICE FOR THE TOUR

LIMITED TOUR SIZE
LAND TOUR PRICE: 9 DAYS - €2,798 (€2,714)
Land Tour price is per person sharing DOUBLE/TWIN room
Single room Supplement IN EUROS: €1099 (€1,066)
---
ACCOMMODATION for 9 Day Escorted Tour
Where
# of
Nights
Hotel
Galway City
Two
The G Hotel
Ballina
Two
The Ice House
Hotel
Lough Eske
Donegal
Two
Lough Eske
Castle Hotel
Dublin
Two
Davenport
Hotel
Click Here to See Pictures of Tour Hotels
Opens in Tabs or Use Browser Back Arrow to Return to This Page.
---
Special Announcement: Experience touring Ireland with Conn, as he relates his family's history intertwined with Ireland's history. We'll visit and have the BEST Irish Coffee in Ireland at the O'Scannlain ancestral home in Ireland. Conn does not do this very often, so sign up now! Join Conn and Philip Smith in September 2017 - the dynamic touring DUO!
---
LAND TOUR PRICES ARE IN EUROS. USE CURRENCY CALCULATOR TO FIND TODAY'S USD PRICE FOR THE TOUR
2017 Conn's Exclusive 9 Day Escorted Tour
Start Dublin
Finish
Shannon
or
Dublin
Land Tour Price
Credit Card Price
Land Tour Price
By Bank
Transfer
Status Places Remaining
Tour #
Email
Your
Questions
Sept. 23
October 1
€2,798

€2,714

3
17201
CLICK HERE
LAND TOUR PRICES ARE IN EUROS. USE CURRENCY CALCULATOR TO FIND TODAY'S USD PRICE FOR THE TOUR
---
---
Conn says: "Sign up right away as this tour will fill fast!"
To confirm your place on the tour you will need to do the following:
• Call Conn and provide him with your personal information
• Pay a Non-Refundable $500 Individual Deposit
• Pay Your Travel Insurance Premium At The Same Time

Call Conn at 253 752 0448
Email: Conn@ConnsIreland.com

---
TAKE A LOOK AT THE OTHER ITINERARIES & LINKS:
Personalized Escorted Tour Series -- Feature packed for those who enjoy the comfort of a LIMITED SIZE TOUR.

"CITNI1" - September 30 to October 8 - 9 Day - NORTHERN IRELAND - Escorted Tour

Join Conn on a 9 Day Tour of Northern Ireland