Personalized - Comprehensive
Quality - Integrity

CONN'S IRELAND
LIMITED TOUR SIZE
LUXURY TOUR 2017
ESCORTED BY CONN O'SCANNLAIN
September 16 - 24
9 DAYS
SOUTHWEST & SOUTH
CIT9SWS
THIS TOUR IS CLOSED
West & Northwest Tour and Northern Ireland Tour
Have Space

LUXURY TOUR
Personalized &amp Customized
9 DAYS
SOUTHWEST & SOUTH 2017
ESCORTED BY CONN O'SCANNLAIN
September 16 to September 24
LIMITED TO 12 TOUR MEMBERS
EASY & SLOW
Personalized & Customized Escorted Tour


If You EVER Wanted To Tour With Conn,
2017 Is A Great Opportunity To Do So
Conn Will Be Celebrating His
47th Year Of Ireland Tour Planning

This itinerary is THE ULTIMATE tour of the Southwest & South of Ireland, including the popular sites and attractions and those that are Conn's favorites. You'll experience the highlights of the country in a comfortably paced itinerary. Combine that with the highest quality accommodation and you'll have a wonderful vacation. Packed with historic sites, visits and entertainment, with all the features you wanted in a tour! Conn's 46 years of personalized tour planning make for a wonderful touring experience. Rated "all 10s" by tour members! Described by former tour members as the "best planned, organized and conducted tour we have ever taken!" EASY & SLOW.

We've also INCLUDED the Driver-Guide Gratuity!!
We take the time to provide a detailed proposal for you to review before you make your decision to pay your deposit. We are not the least expensive tour product, but WE ARE THE BEST! The features and inclusions of our LIMITED SIZE TOURS are numerous. When you make your comparisons with other tour companies, take that into consideration. Our MAXIMUM 12 TOUR MEMBER TOURS are COMPREHENSIVE & COMFORTABLE, as well as an excellent value....and a very PERSONALIZED style of touring... to provide what our clients tell us are "An Irish Symphony of Perfection!"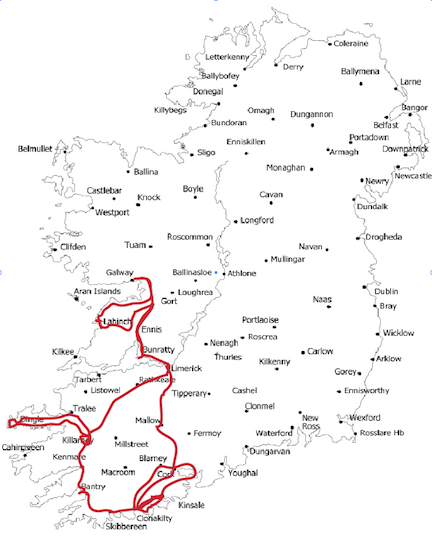 ---
COMPREHENSIVE, PERSONALIZED, COMFORTABLE
9 DAY TOUR

---
ITINERARY
Please arrange your air reservation to depart the USA on Friday, September 15 for Shannon, Ireland
September 16 - Saturday
ADARE & KILLARNEY
Arrive in Ireland at Shannon Airport. You will be met by Conn and your experienced driver-guide, Philip Smith, and tour through County Limerick and a stop in the picturesque village of Adare. The main street is lined with thatched-roof cottages. Continue to the town of Killarney situated on the shores of the Lakes of Killarney and at the foot of the mountains. 'Heaven's Reflex' it is called for its natural beauty. The Killarney Park Hotel has been one of Conn's favorites for over 20 years. This evening explore the pubs of Killarney and find some traditional Irish music sessions. Dinner in the Park Restaurant this evening. Stay at the Killarney Park Hotel, Killarney.
Click Here to See Pictures of Luxury Motorcoach
Opens in Tabs or Use Browser Back Arrow to Return to This Page.
September 17 - Sunday
DINGLE TOWN & SLEA HEAD DRIVE
Irish breakfast this morning. Tour down the spectacular Dingle Peninsula to Inch and view the beautiful Inch strand, used by several movies for its timeless and picturesque quality. Continue into Dingle Town, a busy commerical fishing port. Continue around Slea Head and admire its rugged beauty. Visit the Blasket Island Center and learn about what life was like on the Blasket Islands which loom up in front of you. We'll make a lunch stop in Ballyferriter. Stop and visit the Gallorus Oratory, a 7th century stone chapel used by pilgrims going to Mount Brandon. Return to Dingle Town. Continue to the the village of Annascaul, the home town of Tom Crean, an Antartic explorer. View the South Pole Inn. Tour via Tralee and hear the sad, romantic story of the Rose of Tralee. Return to Killarney Town. Dinner on your own tonight. Stay at the Killarney Park Hotel, Killarney.
September 18 - Monday
KILLARNEY TOWN
Irish breakfast this morning. Irish Jaunting Cart ride through the Killarney National Park, to Muckross House where we visit this wonderful museum of Irish life in the 18th century. The balance of the day is at leisure to explore the Killarney National Park's 24,000 acres or do some shopping or just relax. This evening you will enjoy a Traditional Irish Night with dinner at Kate Kearney's Cottage at the Gap of Dunloe. Transfer back to Killarney Lodge, Killarney.
September 19 - Tuesday
KENMARE & BANTRY
Irish breakfast this morning. Tour south from Killarney viewing the spectacular scenery of the Short Ring of Kerry with a stop at Ladies' View and a panoramic view of Killarney Town and the Lakes of Killarney. Continue through Moll's Gap and on to the town of Kenmare. Cross the spectacular Caha Pass and down into Glengarriff situated on beautiful Bantry Bay in County Cork. You'll visit Garnish Island in Bantry Bay after a short boat ride. The island was a frequent vacation retreat for Agatha Christie and George Bernard Shaw. You will marvel at the Italianate Gardens on the island. On through Bantry to Clonkilty and Inchydoney Island and the Lodge & Spad at Inchydoney Island situated on the ocean shore. Dinner in the Gulfstream Restaurant this evening. Stay at the Lodge & Spa at Inchydoney Island, Clonakilty, County Cork.
September 20 - Wednesday
KINSALE & OLD HEAD
Irish breakfast this morning. Tour through the seaside village of Timoleague and into Kinsale. Kinsale is a quaint harbor town and also know as the 'gourmet capital of Ireland.' You may wish to sample one of the many restaurants for lunch today. Nearby at Summercove you will visit Charles Fort, a star-shapred British fortication overlooking the passage into Kinsale Harbor. You will head about the 'White Lady' ghost! Continue to Old Head and see probably one of the world's most spectacular golf courses. The vistas from here are magnificent...even the Old Head Lighthouse. Return to Clonakilty and the Lodge & Spa at Inchydoney Island. Dinner on your own tonight.
September 21 - Thursday
BLARNEY & COBH
Irish breakfast this morning. Tour north from Clonakilty to the town of Blarney where you will visit the 15th century McCarthy castle, Blarney Castle. It is said that if you climb to the ramparts and kiss the Blarney Stone you will obtain the gift of eloquent speech! Continue to Cobh, once the majot embarkation port for emigrants heading to America and beyond. You'll visit the Emigration Museum and hear the Queenstown Story. Cobh was the last port of call for the Titanic and the Lusitania. Return to Clonakilty via Cork City, Ireland's second largest city situated on the banks of the River Lee. Dinner in the Dunes Pub & Bistro this evening. Stay at the Lodge & Spa at Inchydoney Island, Clonakilty, County Cork.
September 22 - Friday
BUNRATTY & GALWAY
Irish breakfast this morning. Tour to Bunratty and a stop at the Bunratty Folk Park. It is a recreated 19th century Irish village complete with folk in period costume. The 15th century Bunratty Castle can be toured as well. Across from the castle is one of Ireland's oldest pubs, Durty Nelly's which dates to 1620. On to north to Galway, a vibrant city. See Eyre Square, the Claddagh district and view the Spanish Arch. Christopher Columbus stopped here on his way to the New World. This will be a day to relax and enjoy exploring the pedestrianized streets of Galway lined with shops, boutiques, pubs and cafes. You will stay at the unique G Hoteloverlooking Lough Atalia. Dinner on your own tonight.
September 23 - Saturday
CLARE COAST
Irish breakfast this morning. We tour along the southern shore of Galway Bay to the village of Kinvara and a stop to view 15th century Dunguaire Castle. On to the village of Ballyvaughn and stop at Poulnabrone Dolmen, dating to the neolithic period about 5,000 years ago. At Caherconnell we make a visit to see a sheep-dog demonstration. We continue into the area known as the Burren. The Burren in Irish means 'bare rock' and is a unique geological area of bare limestone and because of its micro-climate you'll find alpine flowers growing in the fissures of the rock. Tour around Black Head with dramatic views of Galway Bay and the Aran islands. Stop for photos at Black head Lighthouse. Continue on to Lisdoonvarna, home of the annual Matchmaker Festival attracting would-be suitors from round the world! On to the quaint village of Doolin for a refreshment stop. Continue to the highlight of the day and a visit to the Cliffs of Moher. The cliff formation rises to a height of 700 feet from the surging Atlantic Ocean and stretch for 5 miles. The interpretive center here is exceptional. Return to Galway for some leisure time to explore the city. Dinner in Gigi's Restaurant this evening. Stay at the G Hotel, Galway City.
September 24 - Sunday
DEPART FOR HOME
Irish breakfast this morning. Transfer to Shannon Airport. Depart for home.
Please arrange your air reservation to depart Dublin on Sunday, September 24th for the USA
Slan Leat!
---
POST-TOUR DUBLIN PACKAGE: One or Two Nights
Extend your Ireland Tour with one or two nights in Dublin, Ireland's Capital. Package includes train ticket from Galway to Dublin. Transfer from train station to hotel, Dinner in the hotel restaurant, including an Irish Coffee, Dublin City Sightseeing Tour, and porterage at airport and hotel, transfer to Dublin Airport.
Click here:
Dublin's Fair City Package

---
BACK-TO-BACK TOURING: Combine with the West & Northwest Tour
Extend your Ireland vacation and continue your touring through Ireland's spectacular West & Northwest. Ask Conn about a special discount for the combination. Click here: West & Northwest of Ireland Tour

---
TOUR INCLUDES:
• Arrival and Departure Transfers
• Sightseeing by Private luxury motorcoach
• Hotel accommodation with private bath for 8 nights
• Luxury Motorcoach throughout the tour - from September 16 - 24
• Professional driver/guide throughout the tour - from September 16 - 24
• Full Irish breakfast daily
• Irish Coffee Reception on first evening
• Dinner included on September 16, 19, 21, 23 evenings
• Dinner on your own on other evenings
• Boat Crossing to Garnish island
• Traditional Irish Night with dinner at Kate Kearney's Cottage
• Irish Jaunting Cart Ride in Killarney
• Visits and admissions to Muckross House, Blasket Island Center, Gallorus Oratory,
• Garinish Island, Charles Fort, Emigration Museum, Blarney Castle,
• Bunratty Folk Park, Cliffs of Moher
• Hotel service charges, tips for baggage handling and local taxes
• Conn's Ireland Souvenir Gift
• Driver-Guide Gratuity
• LIMITED TO 12 TOUR MEMBERS


• All tours personally driven and escorted by experienced driver-guide
---
PAY BY CHECK DISCOUNT:
If you wish to pay the land tour price BY PERSONAL CHECK, you can deduct 3% from the Credit Card Land Tour Price shown in BLUE. Tour Deposit may be made by credit card but remaining tour balance must be paid by bank transfer to receive discount. Call us at 253 752 0448 to take advantage of this SPECIAL OFFER! Call now to book!

LAND TOUR PRICES ARE IN EUROS. USE CURRENCY CALCULATOR TO FIND TODAY'S USD PRICE FOR THE TOUR


LIMITED TOUR SIZE
LAND TOUR PRICE: 9 DAYS - €2,978 (€2,888)
Land Tour price is per person sharing DOUBLE/TWIN room
Single room Supplement IN EUROS: €1,299 (€1,260)

Click Here to See Pictures of Tour Sites
Opens in Tabs or Use Browser Back Arrow to Return to This Page.
ACCOMMODATION for 9 Day Escorted Tour
Where
# of
Nights
Hotel
Killarney
Three
Killarney
Park
Hotel
Inchydoney
Island
Clonakilty
Three
Lodge & Spa
At
Inchydoney
Island
Galway
Two
The G
Click Here to See Pictures of Tour Hotels
Opens in Tabs or Use Browser Back Arrow to Return to This Page.
THIS TOUR IS CLOSED
West & Northwest Tour and Northern Ireland Tour
Have Space

---
LAND TOUR PRICES ARE IN EUROS. USE CURRENCY CALCULATOR TO FIND TODAY'S USD PRICE FOR THE TOUR
2016 Conn's Exclusive 9 Day Escorted Tour
West & Southwest
Start Shannon
Finish Shannon
Land Tour Price
Credit Card Price
Land Tour Price
By Personal Check
Status Places Remaining
Tour #
Email
Your
Questions
September 16
September 24
€2,978

€2,888

CLOSED
17203
CLICK HERE
LAND TOUR PRICES ARE IN EUROS. USE CURRENCY CALCULATOR TO FIND TODAY'S USD PRICE FOR THE TOUR
---
---
Conn says: "Sign up right away as this tour will fill fast!"
To confirm your place on the tour you will need to do the following:
• Call Conn and provide him with your personal information
• Pay a Non-Refundable $500 Individual Deposit
• Pay Your Travel Insurance Premium At The Same Time

Call Conn at 253 752 0448
Email: Conn@ConnsIreland.com

---
TAKE A LOOK AT THE OTHER ITINERARIES & LINKS:
Personalized Escorted Tour Series -- Feature packed for those who enjoy the comfort of a LIMITED TOUR SIZE TOUR.

"CIT9WNW" - September 24 to October 2 - 9 Day - WEST & NORTHWEST - Escorted Tour

"CITNI1" - September 30 - October 8 - 9 Day - NORTHERN IRELAND - Escorted Tour
---

Join Conn on a 9 Day Tour of the WEST & NORTHWEST of Ireland - Personalized Escorted Tour