"We Take The Anxiety Out Of Touring Ireland"

Personalized - Comprehensive
Quality - Integrity


Welcome to the Conn's Ireland website.

Thank you for visiting Conn's Ireland web site. I invite you to review all of the site and look at the tours and packages that are offered. They have been designed to offer the highest quality with the assurance of a full service, PERSONALIZED, Ireland vacation, with the integrity of Conn O'Scannlain's 40 year sterling reputation and experience guaranteeing the highest quality Ireland vacation for you.

You will find some very unique touring ideas that are Conn's creation. Concerns and complaints about other tours and tour operators have been designed out.

Conn, Bill O'Reilly and Philip Smith,

(Senior Tour Director),

enjoy a moment outside of Dromoland Castle.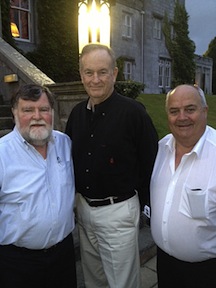 Click on the photo above
to watch "Bill O'Reilly's Tip of the Day" about his Ireland vacation with Conn's Ireland.
We concur with Bill and highly recommend that you visit the land of your ancestors to understand more about yourself and what they experienced. If Ireland is that country then by all means let us arrange that 'special moment' when you arrive in Ireland and start your family exploration.
To navigate the site, select your interests from the links on the left side of this page and go directly to those subjects... then you can click the buttons on the left side of each page to see more about each tour product.
For example on Conn's EXCLUSIVE MAXIMUM 10 TOUR MEMBER, Escorted Tour Series we provide a comprehensive touring style with the most knowledgeable driver-guides, staying at superior, personally selected accommodation, where Conn is well known to all the staff. The luxury motorcoaches that we use are the BEST to be found in Ireland. The tour features have been 'tour member tested' by tens of thousands of Conn's past clients. Take a look at the PERSONALIZED ESCORTED TOUR SERIES by clicking the link on the left column. Driver-Guide Gratuity is INCLUDED in the Tour Price!
CLICK HERE: MAXIMIM 10 TOUR MEMBER ESCORTED TOUR SERIES EXPLAINED. 2014 Series with 3 ITINERARIES with 6 Departures each. Perfect for Couples and Mothers & Daughters, Fathers & Sons.
Looking for an escorted tour for October 2013? We have two tours remaining with a few places still available. Click the link for 2013 remaining Escortred Tour Series PLUS 2014 Tour Series.
Another example of our creative approach to taking the anxiety out of Ireland tour planning are the Self-Drive Tour& Private Tour Planning Kit for the 'Do It Yourselfer.' You can upgrade rom that to a Customized Tour and receive a crdit for the Tour Planning Kit cost. Click Here: SELF-DRIVE TOUR PLANNING KIT or PRIVATE TOUR PLANNING KIT
Here's another example of our 'client-based' tour design: We are the ONLY tour operator that includes private taxi transfers between Dublin Airport and downtown hotels with each Dublin's Fair City package. If you're taking a Self-Drive Tour or renting a Hertz Car, we provide the same private taxi transfer and 'PILOT' service out of Dublin to get you through the traffic! PRICELESS!!
YOU MAY BOOK OUR TOURS THROUGH YOUR TRAVEL AGENT AT NO ADDITIONAL COST
The features and inclusions of our PERSONALIZED & CUSTOMIZED EXCLUSIVE PRIVATE TOURS, SELF-DRIVE TOURS and ESCORTED TOURS are numerous. When you make your comparisons with other tour companies take that into consideration. Our TOURS are COMPREHENSIVE, as well as an excellent value....and a very PERSONALIZED style of touring... to provide what many of our clients tell us were "An experience of a lifetime!" Click here: SELF-DRIVE CUSTOMIZED TOURS EXPLAINED AND LINKS TO SAMPLE ITINERARIES. Click here: EXCLUSIVE PRIVATE TOURS EXPLAINED AND LINKS TO SAMPLE ITINERARIES - DEPART ANY DAY
We take the time to provide a detailed proposal for you to review before you make your decision to pay your deposit. We are not the least expensive tour product, but WE ARE THE BEST!
Over the years we have provided quality and value for our clients. As you explore our web site you will find it is designed to provide you with many choices for your Ireland vacation. A recent client described his customized self-drive tour as "An Irish Symphony of Perfection!"
Our experienced staff in our Pacific Northwest office coordinate with our experienced Ireland staff, to provide you with PERSONALIZED service both here and while you are in Ireland.
As the Eurozone countries are experience economic uncertainties that affect the exchange rate with the U.S. Dollar we have priced all of our tours in EUROS. We have also provided a currency calculator below each tour cost matrix so you can receive the best exchange on the day.
We have also included pricing for paying by credit card and a 10% discount to pay by PERSONAL CHECK! Take a look!
Mise le meas,
Conn
(Mise le meas means 'with respect' in Irish)