Personalized - Comprehensive
Quality - Integrity

We Take The Anxiety Out Of Touring Ireland
Based Tour Two
6 DAYS - THE SOUTHWEST
LUXURY BASED TOUR
INDEPENDENT TOUR
AGHADOE HEIGHTS HOTEL & SPA BASED TOUR
Easy & Slow
LUXURY

6 DAYS
FIVE STAR LUXURY HOTEL BASED TOUR
It's like a LAND CRUISE! - Unpack Once - Resort Activities to Enjoy - Day Excursions - Hertz Rental Car or Private Car and Driver for COMPLETE independence - Relax!

A relaxed based vacation in Killarney and the SOUTHWEST of Ireland with opportunities to explore, sightsee, get pampered, all in the best of 5 star luxury!
While visiting County Kerry, the Kingdom County of Ireland, reside in truly luxurious style at the Aghadoe Heights Hotel & Spa. Aghadoe Heights Hotel and Spa is Ireland's (multiple) award-winning five star luxury resort that overlooks the Lakes of Killarney in the heart of County Kerry. Blessed with its breathtaking location and contemporary elegance, visiting Aghadoe Heights Hotel is a truly unique experience. The spectacular surroundings are echoed by the hotel's beautifully appointed bedrooms and suites, lounges, fine dining room, award-winning spa, swimming pool and tennis courts. Nestling in the Kerry Mountains and overlooking the Lakes of Killarney, Aghadoe Heights Hotel & Spa Resort is in the heart of the Kingdom of Kerry, located just 10 minutes drive to Killarney town. One of the most distinguishing features at Aghadoe Heights Hotel & Spa is our unsurpassed level of personal service. Little wonder the importance of teamwork is so genuinely regarded. As the General Manager says; "I believe that people matter. Treat staff as individuals and they will treat individuals as kings. We genuinely believe that every member of the staff in Aghadoe plays an equal part in making our customers feel welcome and at home, delivering first class, thoughtful service that guests will remember and want to return."

&nbsp &nbsp

&nbsp &nbsp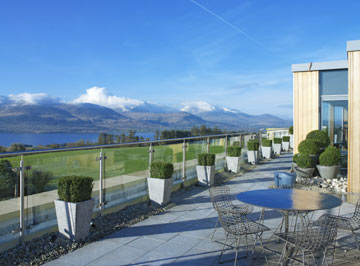 >&nbsp &nbsp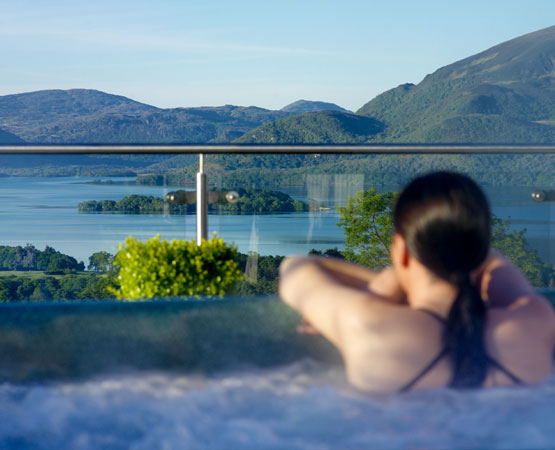 &nbsp &nbsp

&nbsp &nbsp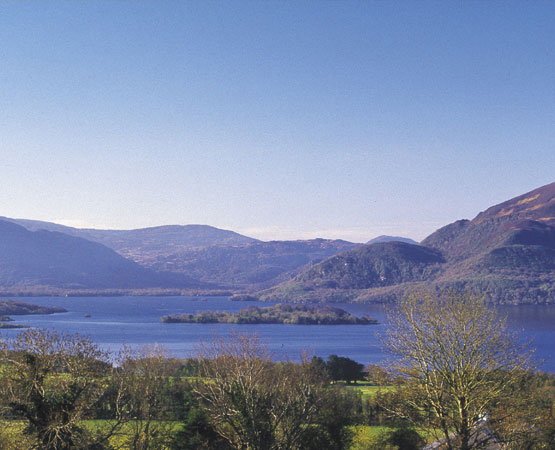 &nbsp &nbsp
---
YOUR LUXURY FIVE STAR LUXURY HOTEL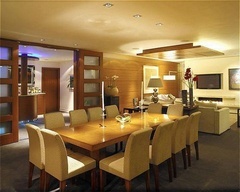 &nbsp &nbsp
&nbsp &nbsp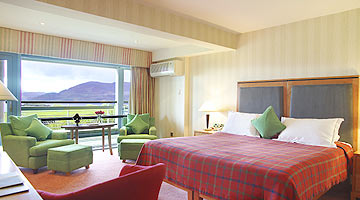 &nbsp &nbsp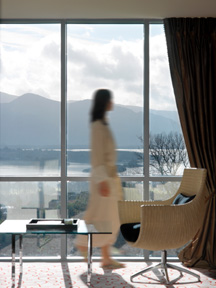 &nbsp &nbsp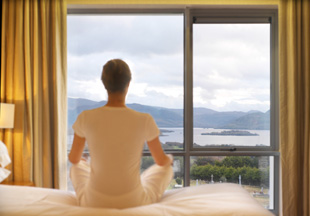 &nbsp &nbsp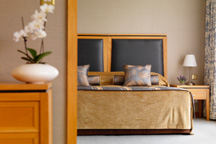 &nbsp &nbsp
---
RELAX - UNWIND - ENJOY

THE AGHADOE HEIGHTS HOTEL BEDROOMS:
LAKESIDE ROOMS:
Landscape windows and balconies overlook Lough Lein in these spacious 40 square meter rooms. Choose from King sized double or twin beds and relax in five star luxury. Each beautifully appointed room has been tailored for maximum comfort, from the padded clothes hangers holding the fluffiest of toweling robes to the Aveda amenities in the relaxing bathrooms. Unwind from the world and enjoy the experience.
JUNIOR SUITES:
A welcoming blend of home-style comfort with five star elegance is the emphasis of the 55 square metre junior suite. Facilities abound, from hi-tech entertainment to vast picture windows and balconies. King size double or twin bedroom with a separate lounge area and ample dressing room and bathroom, complete with Aveda amenities, incorporate all modern conveniences to ensure your stay is even more than memorable.
GARDEN SIDE SUITES:
60 square meters in size, the Garden Side Suites combine contemporary interiors with every modern convenience for a memorable, relaxing stay. Melt under the crisp linen of Aghadoe's unique six and a half foot beds or enjoy the garden views from your private living room, equipped with large screen TV, entertainment centre and in-room bar. Marble bathrooms have oversized tubs and separate walk-in shower with mood sound and lighting. Separate dressing room comes with all amenities for luxurious living.
LAKESIDE STUDIO SUITES:
Get the ultimate Aghadoe experience in one of the Lakeside Studio Suites. Over 60 square meters of space incorporates the most comfortable of six and a half foot custom-made beds and open-plan living room with large TV, entertainment centre, bar and floor-to-ceiling windows offering beautiful, uninterrupted lake views. A generous dressing room and marble bathroom with super size bath, walk-in shower, double amenities, mood lighting and piped audio offers everything for the ultimate stay.
AGHADOE SUITE:
Elegant and welcoming, The Aghadoe Suite offers 93 square metres of unashamed luxury. Situated on the fourth floor, it offers breathtaking views of Killarney Golf & Fishing Club and the lakes from its own private double balcony. Consisting of a master bedroom, spacious drawing room and private dining room, The Aghadoe Suite is fitted with a Bose Sound System and has its own private kitchen - perfect for entertaining or for the most elegant 'down time'.
---
&nbsp &nbsp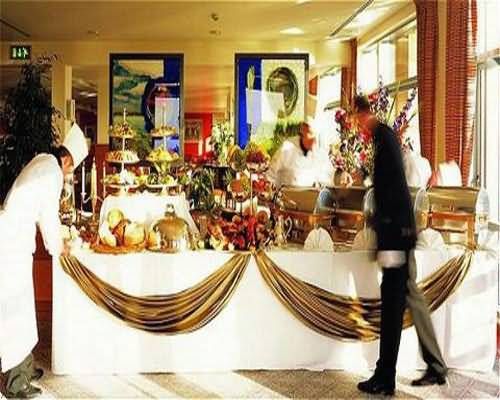 &nbsp &nbsp

THE LAKE ROOM RESTAURANT:
With award-winning cuisine and a superior wine list, The Lake Room offers the finest of contemporary dining in a very cosmopolitan style. Popular with guests and visitors who return time and time again, The Lake Room's chefs set standards with mouth watering dishes from the best of local, in-season ingredients. With an ever-changing a la carte menu, dining in the airy, open plan Lake Room is sheer perfection, from aperitif to the last petit fours.
---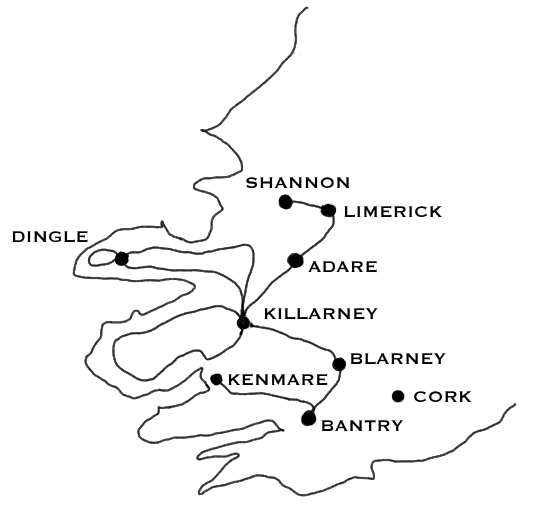 ---
SUGGESTED ITINERARY

Day 1
KILLARNEY TOWN
You have two options for transport: by Hertz rental car or Private Car & Driver. Arrive at Shannon Airport, Kerry Airport or Cork Airport and make you way to Killarney, or continue your touring from another BASED VACATION resort. Enjoy the scenic drive to Killarney Town. If coming through the Village of Adare, you'll stop and view the many, colorful, thatch-roof cottages that line the main street. Killarney Town is a vibrant "little" town and the incredibly beautiful surrounding countryside makes Killarney a very special place indeed. Killarney is the ultimate base for touring in Ireland's spectacular Southwest. It is centrally located and is the automatic start & finish point for doing the Ring Of Kerry and The Dingle Peninsula. This evening enjoy a Welcome Dinner followed by an Irish Coffee. Dinner in the dining room this evening.

Note: each day during your stay you can avail of the many activities offered, such as golf or spa treatments. We can design your touring day around those activities as the Hertz Rental Car or Private Car and Driver will be with you every day of your stay.

Day 2
RING OF KERRY
The Ring of Kerry is the most renowned Day Tour in Ireland. Throughout its 110 miles, the visitor will travel around the MacGillicuddy Reeks and the Iveragh Peninsula, along the breathtaking Atlantic Coast, Dingle Bay and Kenmare Bay, returning to Killarney through the famed Molls Gap, Ladies View and Killarney National Park. En route are the lovely coastal villages of Glenbeigh, Waterville and Sneem and the thriving market towns of Killorglin and Caherciveen. The "original Ring of Kerry" (and still the best option) takes you from Sneem to Kenmare and then back to Killarney. The beautiful town of Kenmare is a must for the independent traveller. The Ring embraces many points of historic and archaeological interest such as Caherciveen Heritage Center, The Skellig Experience (Valentia Island), Derrynane House, prehistoric Staigue Fort and Kenmare Heritage Centre. Return to The Aghadoe Heights Hotel for a relaxing evening. Dinner on your own tonight. A chance to explore the many pubs and restaurants of Killarney Town.

Day 3
SLEA HEAD & DINGLE PENINSULA
Slea Head is Europe's most westerly point and its outlying historic Blasket Islands are known locally as the 'next parish to America.' The unsurpassed beauty of its rugged coastline and landscape inspired the famous film director David Lean to shoot his epic film 'Ryan's Daughter' on location in the Dingle Peninsula. The landscape is dotted with ancient historic sites and early Christian dwellings such as the Gallarus Oratory [9th century Christian Oratory], Beehive Huts (early Christian Monks dwellings) and the Blasket Islands Interpretative Centre. The route passes through Milltown and Castlemaine before arriving at the beautiful fishing harbour town of Dingle, home of Dingle Oceanworld and Ireland's favourite dolphin - 'Fungi'. Then onwards around Slea Head and back via Dingle to Killarney. Return to The Aghadoe Heights Hotel for a relaxing evening. Dinner on your own tonight. A chance to explore the many pubs and restaurants of Killarney Town.

Day 4
BLARNEY & BANTRY
No visit to Ireland would be complete without a tour to the town of Blarney. Northwest of Cork City this 15th century McCarthy Castle is legend. You'll visit the estate and enjoy a stroll through the demense to the castle and then climb to the top and kiss the Blarney Stone. It is said that you'll obtain the gift of eloquent speech by kissing the stone. The nearby Blarney Woolen Mills will give you an opportunity for some shopping or lunch in Christy's Pub. Continue to Bantry in the heart of West Cork, a region of lush vegetation, palm trees and semi-tropical flowers. Hemmed in by high mountain ridges, an azure blue sea and cascading mountain streams, it is a place of unparalled beauty where the landscape changes with every mood of wind and sky. In this breathtaking splendor of mountain scenery, hilly pastures, meandering streams, lakes and woods, where megalithic monuments and ruins of monastic settlements dot the country-side, visitors can find peace and tranquility. Return to The Aghadoe Heights Hotel for a relaxing evening. You might seek out some traditional Irish Music this evening at one of the many pubs in town. Dinner on your own tonight. A chance to explore the many pubs and restaurants of Killarney Town.

Day 5
KILLARNEY LEISURE ACTIVITIES DAY
You may wish to enjoy a Jaunting Cart ride this morning and go on a wonderful ride through the Killarney National Park, stopping at 14th century Muckross Abbey where you can explore the ruins. Then on to Muckross House for a visit to this Victorian stately home which is now a museum to Killarney life of the period. Return to the hotel and perhaps enjoy the rest of the day at Killarney Golf Club with 18 holes of golf. You can rent clubs at the Pro Shop. The three challenging parkland courses will provide a delightful golfing experience. Or enjoy a spa treatment at the Spa. Other activities are available and the staff will be delighted to assist you. Your driver-guide will be able to take you to places for shopping, from renowned stores to boutiques or hidden gems! This evening you'll enjoy a Farewell dinner. Dinner in the dining room this evening.

Day 6
DEPART FOR HOME
Drive to Shannon Airport, Kerry Airport or Cork Airport, and turn in the Hertz rental car or continue your Self-Drive tour to any other BASED VACATION hotel. Depart for home.

Slan Leat!

You can make your Conn's Ireland Car Rental Hertz Ireland Exclusive Discounted rate by clicking the image below:

• HERTZ CAR RENTAL through Conn's Ireland Car Rental - Fully Inclusive Rate with NO Deductible and NO Hidden Charges

• Hertz Ireland was awarded the 2020 and 2021 World Travel Award as Ireland Leading Car Rental Company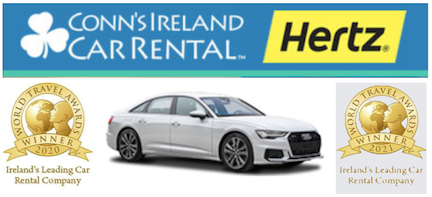 &nbsp &nbsp

*FULLY INCLUSIVE HERTZ CAR RENTAL Rates Include:


• Unlimited Mileage
• Collision Damage Waiver (CDW)
• SUPER CDW INCLUDED!
• 3RD PARTY LIABILITY INSURANCE!
• Personal Accident Insurance
• Theft Protection (TP)
• Location Service Charge (LSC)
• VAT (Value Added Tax)
• One-Way Drop Charge (If applicable)
• NO PAYMENT UNTIL CAR RENTAL IS COMPLETED
• EURO CAR RENTAL RATE GUARANTEED
• NO CANCELLATION PENALTIES
• NO Airport Counter Hassles!!
---


Just Want To Rent A Car?
Click Logo For
FULLY INCLUSIVE RATE
ZERO DEDUCTIBLE
---
---
Or forget about driving yourself and UPGRADE to our PRIVATE touring BASED VACATION with your own LUXURY TOURING VEHICLE AND EXPERIENCED Driver-Guide...

PRIVATE TOURING - Your own experienced Driver-Guide and
Luxury Touring Vehicle


&nbsp &nbsp

Senior Driver-Guide, Philip Smith with 30 years experience - Luxury Long-wheel-base Mercedes Viano - Custom Leather Interior with plenty of legroom


This is THE ULTIMATE way to enjoy a Self-Drive or Private Car & Driver tour of Ireland, including the popular sites and attractions. You'll experience the highlights of the country in a comfortably paced itinerary. Combine that with the highest quality accommodation and you'll have a wonderful vacation. Packed with historic sites, visits and entertainment, with all the features you wanted in a tour! You'll be in the EXPERIENCED hands of Conn O'Scannlain, CTC DS, getting the EXPERT advice from someone who has been doing Ireland tour planning for over 50 years! Rated "all 10s" by previous clients! Described by them as the "best planned, organized and enjoyed tour we have ever taken!" CUSTOM DESIGNED TO YOUR PERSONAL INTERESTS AND PREFERENCES - available ANYTIME - you set the dates!

You can call Conn or email him and let him know the best time to call you. Conn will have a conversation with you to find out your interests and preferences, as well as activities you may wish to enjoy. Then after After you pay an initial retainer of $350, (credited toward your tour price) we will take the time to provide a detailed proposal for you to review before you make your decision and commit to the full tour price. We are not the least expensive tour product, but WE ARE THE BEST! The features and inclusions of our PERSONALIZED & CUSOMIZED SELF-DRIVE TOURS are numerous. When you make your comparisons with other tour companies, take that into consideration. Our services provide a COMPREHENSIVE & COMFORTABLE experience, as well as an excellent value....and a very PERSONALIZED style of touring... to provide what our clients tell us are "An Irish Symphony of Perfection!"

YOUR LUXURY AGHADOE HEIGHTS HOTEL & SPA BASIC PACKAGE INCLUDES:

• Detailed Day-By-Day touring itinerary custom-designed by Conn
• Concierge Service - Services of our Ireland staff while touring
• Sightseeing each day, as you wish
• Accommodation with private bathroom for 5 nights
• Irish Breakfast each morning
• Welcome Dinner on First Evening
• Farewell Dinner on Last Evening
• DK Eyewitness Ireland Guide - 384 pages
• Collins Ireland Road Atlas
• Collins Folding Ireland Road Map
• Government Taxes
• Conn's Ireland Souvenir Gift
• Minimum 2 Tour Members


A LA CARTE OPTIONAL EXTRAS YOU CAN ADD TO THE BASIC PACKAGE:
• Accommodation UPGRADE to Suites available at SPECIAL rates
• Irish Jaunting Cart Ride Through the Killarney National Park
• One Hour Sightseeing Cruise on Lakes of Killarney (seasonal)
• Golf at Killarney Golf Club
• Spa Treatment in the award winning hotel spa
• Boat excursion to Skellig Michael from Portmagee


Call or email Conn and get started planning your Luxury Based Ireland Vacation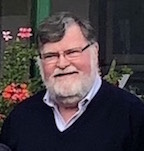 Conn O'Scannlain, CTC DS
President
50 Years of Ireland
Tour Planning
Email: Conn@ConnsIreland.com
Direct Tel: 316 361 0460
Central Time
---
- GET A PROPOSAL -
It is as simple as One, Two, Three
Step 1: Decide the date and number of days for your vacation
Step 2: How may persons in your party and whether you wish to enjoy a Self-Drive or Private Tour
Step 3: Call Conn at 316 361 0460 (Central Time) or email him at Conn@ConnsIreland.com
Conn will chat with you, send you an e-invoice the the $350 proposal retainer (credited to your tour price) which you can pay by credit card, and then prepare and email a detailed proposal for you to review.
---
Have more touring time? Consider combining this tour with the 6 Day THE WEST & CONNEMARA Luxury Based Tour
Click the Shamrock below

Continue to a new 'BASE' and tour out of Galway & Connemara and the 5 Star Glenlo Abbey Hotel & Golf.
---