Dear Conn, To say we  thoroughly enjoyed our trip to Ireland is an understatement! John Carew is to be commended for going above and beyond the service of a driver guide...from tending Katie while we were stuck in Heathrow, hunting down our luggage, showing us the most beautiful scenery we could ask for (we haven't seen anything yet), and truly listening and picking up on the nuances of what would truly make our trip's dreams come true...asking a local if Katie and I could hold one of his lambs, hunting down all the Quiet Man sites for Al and in the end, even finding a puffin riding on a sheep for me, and much much more! John made our trip and was great craic! We're honored, now, to count him as a friend and hope he feels the same about us. Conn, you put together a great tour for us and we are most appreciative. Again, we had such an enjoyable time.
Thank you and slán! The Grinsell Clan, Reno, NV
Conn, Thanks again for such a outstanding 3 weeks in Ireland. We had the most wonderful experience seeing the country side and non tourist areas. Of course our driver-guide, Philip Smith, added a lot to that experience. We hope to plan another trip in 2 years and will contact you with details later.
John and Mary Schmidt, Tucson, AZ
Conn, I apologize for the delay in getting back to you. Things have been so busy since coming back from vacation that I have not even had two minutes to myself!!
First, it was wonderful working with you to get our trip planned to Ireland! My mom, sisters, niece and myself could not have asked for a better experience!! The trip was fantastic and we have decided that the private tour was definitely the way to go!! We will travel like this again!! My niece loved the "Kocer Group" sign at the airport in Dublin. She thought we were pretty special!! I loved it too!!.......Second, Phillip was tremendous!! We had so much fun with him and he "gave" it right back to us. He was a pleasure to talk with and drive with during our travels! He had so much knowledge of the area and knew additional stops to make to enhance our schedule!! We Loved Him!! .......Third, it was a pleasure meeting you at lunch during our tour. It is always great to put a face to a name and voice. Thank you for taking such good care of us!!! ......When we go back to Ireland someday, we will definitely be in touch. Thank you again for working with us so diligently to get us to where we wanted to go. It meant the world to me and to my family to get this experience with Mom again. We will treasure it always!!
Theresa Kocer, HIA, HCSA, PAHM, CHC - Sioux Falls, SD
"Whether it's your first trip to Ireland, or as in our case, the fourth, there is no better way to see the Emerald Isle than with the expert guidance of Conn O'Scannlain. With impeccable detail, he arranged each of our visits to accommodate every place we wanted to see with the best use of time and ease of travel. Each day was mapped out with clear directions and optional sites along the way. The lovely castles and manor houses awaiting us at the end of each day were beautiful, welcoming and relaxing. Because Conn is so respected and renowned as a tour planner in Ireland, the owners and managers of each establishment we visited treated us like royalty. Before you even leave home, you will have in hand a detailed itinerary, pictures of your accommodations and vouchers to facilitate each accommodation and attraction. It is an amazingly wonderful way to see an amazingly beautiful country!"
Pat and Karen Dempsey, Scranton, PA
"Peter and I had a wonderful time in Ireland. Your guidance, suggestions and itinerary helped tremendously. First, you were very responsive in our planning. By the time we left, I knew we were in good hands. Your preparation materials were invaluable. With them, we felt comfortable heading out into the unknown! The hotels and restaurants you chose were terrific, as was the drive to Clifden, Cliffs of Moher, and the stops along the way. Fintan, the taxi driver, was super – he was conscientious, on time and very responsive. This is a great addition to your service. We never worried about transportation and felt comfortable calling him when we got lost or needed assistance. Another nice touch was the 'batphone.' We will gladly refer your service to those considering traveling to Ireland. "
Moinca Wooten & Peter Kelly, New York City
"I want to thank you for doing such a great job in putting together our stay in Ireland. The itinerary was well planned and thought out, and just fabulous. Your selection of B&B's were excellent. The accommodations, hospitality, comfort and breakfast all rate a 10 out of 10. We got to see many attractions along the most beautiful breathtaking scenic drive I have ever seen. We took many pictures to share with family members back home. I will treasure these memories forever. Conn, we could not have seen what we did on this trip without your help. I will highly recommend your services to anyone traveling to Ireland."
Cecelia Herman, Miami, FL
Conn..just a note to say thanks for the outstanding tour itinerary. Paula and I had a great time..Gregans Castle Hotel,Ashford Castle, Lough Eske Castle and the Merrion Hotel were all terrific accommodation..the meals were great,the best at Gregans and Ashford. Service impeccable and of course the views made it all idylic..Thanks again. Looking forward to a third trip soon..Best wishes and Happy Holidays to you and your family. A special thanks for coming to Ashford to meet us..You're the best.. ps..please convey our thanks to Fintan Murray as well..he was most helpful and a great Dublin guide.
Jim Doyle and Paula Robinson, Batesville, IN.
"I think you did an amazing job for us! You even put in a good word about the weather and that worked great for us too! "
Linda Sebok, Dublin, OH
"The trip you planned for us met my expectations in every way. Philip is a very smooth driver who gives the rider a sense of safety. He is very knowledgeable, pleasant and patient"
Sara Trotter, Batesville, MS
"An amazing and unforgettable trip. Each day kept getting better, if that were possible!"
Makeda Wubneh, Fox News Channel, New York
"As usual all details...perfectly done!"
Jay Connell,Smithville, NJ
"Great Trip! All 10's"
Edgar & Debbie Royce, New York
"We believe that it was the best way to experience Ireland!"
Anthony & Deborah Phillips, Brigintine, NJ
"Everything went like clockwork! No problems! Our driver even had a bottle of water for us. A dream come true!"
Robert & Dona Lovelace, Harvest, AL
"Fantastic Tour!"
Jerald & Virginia Roy, Lambert, MS
"Well organized! Something for everyone...also good 'bang for the buck'"
Hubert & Jane Caston, West Point, MS
"It was just great! Well planned. Philip was wonderful"
Martha Garrison Como, MS
"We had a great time. Conn O'Scannlain and Philip Smith... The Best - The Best in the World!"
Bill O'Reilly, Bill OReilly.com and Bill's NO SPIN HEWS - USA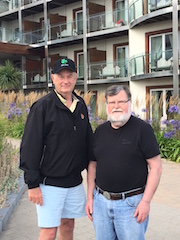 Click on the photo above to watch "Bill O'Reilly's Tip of the Day" about his Ireland Irish roots.
Bill O'Reilly calls Conn's Ireland "The Best in the World!"
"Conn, I'm impressed with this website and glad to hear you are still providing the greatest tours of Ireland. Sheila and I had one of our most memorable European trips, due to your guidance. Good luck and be well."
Walker Brown, Philadelphia, PA - USA
"Our trip was well organized, very informative and you included all great detail for travelers. Definitely will recommend to our friends!"
John & Shannon Clinton, Avon, CT
"Absolutley Spot On!. Sensational!." Douglas & Beverly Reiman, Heber, AZ.
"Trip of a Lifetime! Very well planned and easy to navigate through the plans. " Terry & Marilyn Bader, St. Louis, MO
"I will recommend you to anyone who asks about Ireland. There "ain't" any better Irish tour operator that you!." Dowrene Hahn, Irvine, CA.
"All 10's! We loved every accommodation! Pace of Itinerary was PERFECT!" Lawrence & Dawn Drake, Convent Station, NJ
"Tour All 10's! Scenery 15! Philip Smith 15! PHilip made the trip!!" Michael & Martha Gallagher, St. Louis, MO
"Pubs & Music. Staying in Bushmills, old castles, old churches & cemeteries. Excellent driver & fun! Very knowledgeable" Marvin & June Schifsky, Stillwater, MN 55082
"One of the best vacations we have been on. I would highly recommend your company to anyone going to Ireland" James & Evelyn Crooks, Taylorsville, NC
"Very good way to see a great deal of Ireland in a short time. Philip, the Tour Director knowledge & expertise was an added plus!" Ronald Blaine & Denise Everson, Athens, GA
"The Tour Director had to be the highlight. He was an exceptional guide. Fit schedule to our very demanding group. Loved having him and would ask for him again. The trip was planned for us to enjoy all Ireland had to offer. We'll be back!" Michael & Cynthia Graham, Lemoore, CA
"It was a well planned, excellent trip and our Tour Director, Philip, was superb! Could not have been better!" Alan & Clarissa Willemsen, Mendham, NJ
"The Tour Directpr was the most amazing guide. A super guy and the tour a superb experience" Lauren Cenzano, East Northport, NY
"This trip far exceeded our expectations! Spectacular! Tour Director's pride and knowledge of Ireland's history was impresive." David & Brenda Linthicum, Fairfax, VA
"Breathtaking! Absolutely memorable!" Theresa DeVries, Denver, CO
"It was a wonderful trip - I am so glad I finally got to Ireland! Philip was great!" Nan Stufflebeam, Alexandria, VA
"It was great and we loved it. Best trip I ever had. Thank youfor a great time. Tour Director was the BEST!" Wayne Hatcher, Riverdale, NJ
"The pubs were very fun! Loved learning about the history - culture of Ireland. Overall was a wonderfull experience! Tour Director was Outstanding!! Loved him!" John & Lori McDevitt, Alpharetta, GA
HERTZ CAR RENTALS THROUGH CONN'S IRELAND CAR RENTAL
"We have been to Ireland 35 times and have booked cars through several agents. Your services is the most competiti price-wise and the most 'hassle-free. Thanks you!" Barbara Sullivan, Falmouth, MA
"Was able to get Hertz car immediately due to changes at the new terminal in Dublin; didn't have to take shuttle to off-site location!" A. Lavery, Danbury, Connecticut
"Excellent experience with Hertz car rental, as always!" J. Cassidy, Clarendon Hills, Illinois
"Pickup and staff at Hertz Dublin tremendous; good car, great on gas, good price; car was as expected!" D. Gallagher, Jeffersonville, Pennsylvania
"Pickup at Hertz was painless; drop-off was very quick; zippy little car!" M. Cassidy, Naples, Florida
"Hertz staff at Shannon were very courteous and knowledgeable; car was excellent, best ever quality!" J. McQuaid, West Roxbury, Massachusetts
"Staff at Hertz in Dublin were super, friendly and accommodating!" L. Feller, Acworth, Georgia
"Only and always Hertz Ireland!" K. Scherer, Bolingbrook, Illinois
"Great Hertz staff at Shannon; looking out for my interests!" G. Gleckel, California, Maryland
"Your service at Hertz Dublin was great, easy pickup and return; great staff!" A. Gay, Wilmington, North Carolina
"Hertz, Dublin staff, were exceedingly friendly and helpful!" N. Donaldson, Bayside, Wisconsin
"Personable, professional, excellent service at Hertz Shannon; arranged pickup at our hotel in Killarney, not airport, as we were catching the train!" Nicolas, San Jose, California
"Very friendly staff at Hertz Shannon; brand new car; never been easier; literally took minutes!" J. Jenks, Bremerton, Washington
"Excellent service at Hertz Shannon, as always!" A. Hill, Palm Coast, Florida
"Our third trip to Ireland, renting from Hertz at Shannon; excellent!" W. Cahalane, Lynn, Massachusetts
"Easy and friendly, very helpful at Hertz Dublin; not one second of wasted time and very hassle-free!" J. Jones, Chicago, Illinois
"Excellent service at Hertz, Dublin!" T. Kelly, Tulsa, Oklahoma
"Rented from Hertz Ireland many, many times; always good service!" S. Worrall, Millsboro, Delaware
"Excellent, so easy, Shannon Hertz staff!" T. Hennigan, Piedmont, California
"Great experience at Hertz, Downtown Dublin!" J. Ault, University Place, California
"Easiest car rental ever; pickup at Hertz Shannon!" B. Sullivan, Cincinnati, Ohio