Personalized - Comprehensive
Quality - Integrity

We Take The Anxiety Out Of Touring Ireland
Based Tour Five
6 DAYS - THE NORTHWEST
LUXURY BASED TOUR
INDEPENDENT TOUR
LOUGH ESKE CASTLE & SPA BASED TOUR
Easy & Slow
LUXURY

6 DAYS
FIVE STAR LUXURY CASTLE BASED TOUR
It's like a LAND CRUISE! - Unpack Once - Resort Activities to Enjoy - Day Excursions - Hertz Rental Car or Private Car and Driver for COMPLETE independence - Relax!

A relaxed based vacation in DONEGAL and the NORTHWEST of Ireland with opportunities to explore, sightsee, get pampered, all in the best of 4 star luxury!
---
YOUR LUXURY LOUGH ESKE CASTLE HOTEL

---
THE HISTORY OF LOUGH ESKE CASTLE

Lough Eske Castle has a long history which is wrapped in the story of Co. Donegal and Ireland. It is a story of being carved piece by piece from local stone carried by Clydesdale horses along specially constructed roadways. It is a tale of being won, lost, ruined and restored. Powerful 14th century clans of Donegal the O'Donnells had their seat here, wealthy landowners ruled from here and Edwardian glamour was played out. In 1861 the new Lough Eske Castle, as we know it today, was built on the site of the old Brooke Mansion. Always a place for entertaining international guests since 1861, Lough Eske Castle remains full of warm Donegal hospitality today as it did over 150 years ago.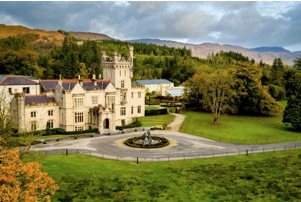 &nbsp &nbsp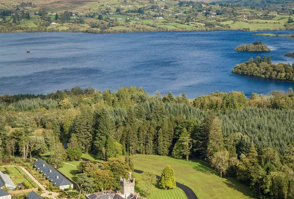 &nbsp &nbsp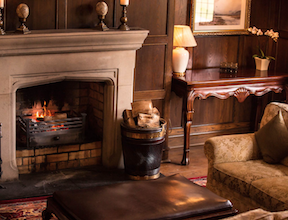 &nbsp &nbsp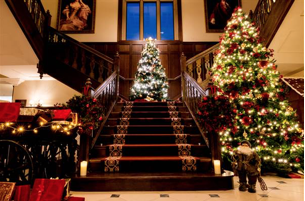 &nbsp &nbsp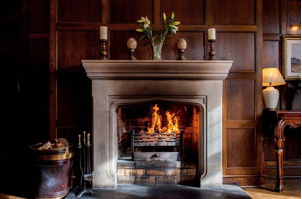 &nbsp &nbsp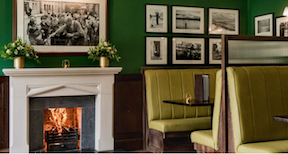 &nbsp &nbsp

Getaway and treat yourself to a 5 star luxury stay and explore what Lough Eske Castle has to offer. Lounge by the open fires in the Castle Drawing Rooms and relax with refreshing walks around the grounds of Lough Eske. Enjoy a bottle of Prosecco on arrival and take advantage of a credit towards a three-course dinner in our award winning 2 AA Rosette Cedars Restaurant.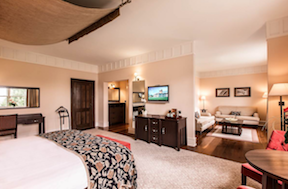 &nbsp &nbsp>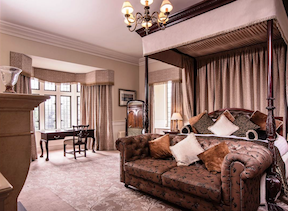 &nbsp &nbsp
Lough Eske Castle offers a selection of 97 magnificent 5 star rooms and suites that will make choosing accommodation in County Donegal easy. Each room complements the restoration of the castle and is sensitive to its history and location, making for superior castle accommodation in Ireland. Maximum use is made of natural light, natural materials and fabrics so that our guests, while cocooned in luxury, never feel far removed from the landscape around them.
Meticulous attention to detail and thoughtful design created these spacious castle lodgings in Ireland, while décor varies to suit their setting in the hotel. These include the charming country-house style Courtyard Rooms and the contemporary, light-filled Garden Suites which open directly into the hotel gardens. For an extra special treat when booking your Donegal accommodation, you could choose one of our spacious Junior Suites or why not spend a night in the Major General White Suite in the original part of the Castle and enjoy a night in the stunning Tower Suite? Discover all the delights of the most exquisitely appointed suites to be found in a Co. Donegal 5 star hotel and you might never leave!
RELAX - UNWIND - ENJOY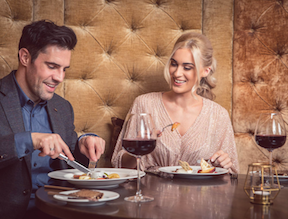 &nbsp &nbsp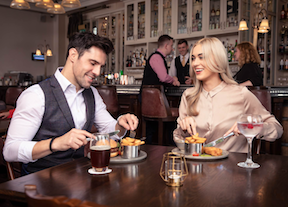 &nbsp &nbsp

A FRESH APPROACH TO DINING
RESTAURANTS AND BARS OFFERING TRUE DONEGAL HOSPITALITY

You could not think about dining in such a wild and beautiful place as Donegal without thinking of the landscape around you. Produce harvested from the land, shore and sea of this stretch of the Wild Atlantic Way is brought together by the exceptional culinary team at Lough Eske Castle's Co. Donegal restaurant. Flavours, seasons and traditions dictate the menu and the cooking style. We believe that simple is best and with ingredients this fresh and wholesome nothing more than a little magic is needed.

AUTHENTIC COUNTY DONEGAL DINING AT LOUGH ESKE CASTLE

The culinary team at Lough Eske Castle are highly talented and creative but that does not mean they forget what is important to our guests at our welcoming restaurant in Donegal. Equally important to us are the local family who drop in for Sunday lunch and the wedding party staying for the weekend. Food is prepared with passion but always with an eye to exactly what will please our guests.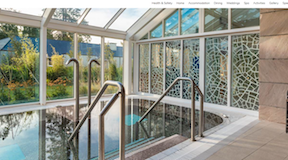 >&nbsp &nbsp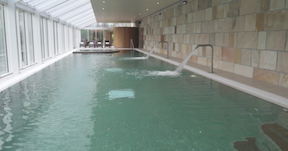 &nbsp &nbsp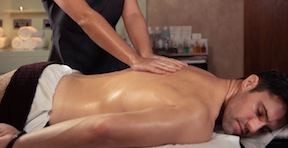 &nbsp &nbsp

THE SPACE TO RESTORE BODY AND MIND

CARA Organic Beauty Spa at Lough Eske Castle Hotel is a 5 star spa resort experience which always has your wellness and well being at heart. It is also an idyllic luxury spa hotel in Ireland if you are searching for a weekend spa break of pure indulgence and pampering.

Please click to view our detailed updates on Health & Safety measures in light of Covid19. Our swimming pool, gym, treatment rooms and relaxation area remain open. Please note our thermal suite including our sauna and steam room are closed as per government guidelines.

A castle spa in the magnificent surrounds of Donegal on the Wild Atlantic Way is surely the dream destination for a romantic break in Donegal! For time out or time together there is no more restful way to restore body and mind.

The pool and Spa building sits in the footprint of the original Victorian Glass House. An aqua green and gold mosaic colour theme flows through the pool and Spa areas which comprises of seven treatment rooms, including two couples treatments rooms with jet bath and steam room; a fully equipped thermal suite consisting of an ice fountain, sauna, steam room, sanarium, tropical experience showers, heated bench and an infinity pool ensuring your wellness and indulgent relaxation needs are catered for at our 5 star spa hotel in Ireland.

Please note that due to limited availability, access to the Thermal Suite is exclusively for those guests receiving treatments. Hotel guests not receiving spa treatments have complimentary use of the heated swimming pool and fitness centre throughout their stay.

Our fitness centre offers a range of cardiovascular and strength training options, as well as state of the art equipment. All designed with you in mind and to help you get the most from your visit to Donegal.
---
DISCOVER DONEGAL YOUR WAY

Awarded the title of Coolest Place on the Planet by Lonely Planet in 2017, Donegal really is a place apart. When it comes to Donegal activities, attractions and things to do in Donegal you too will be blown away. Its long list of natural amenities makes for an outdoor adventure paradise - from the high-octane adventure of big wave surfing in the Atlantic Ocean to the more leisurely pursuits of walking and cycling. Everything you could need for an active holiday is to be found at or within a short distance of the hotel. Lough Eske Castle Hotel is situated on the shores of Lough Eske and close to the Blue Stack Mountains – superbly located for fishing and walking enthusiasts looking to discover Donegal. Golf courses, riding stables, bike hire, adventure activities and tracks and trails are just some of what is on our doorstep, all of which are first-rate and provide a great way to explore more of the magnificent Northwest.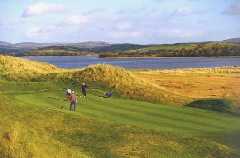 &nbsp &nbsp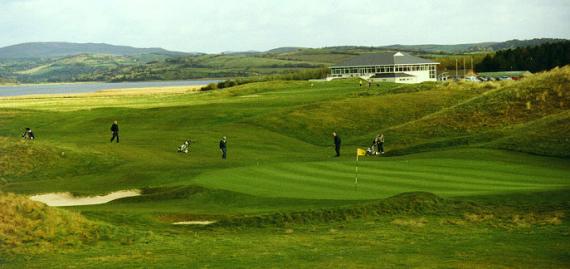 &nbsp &nbsp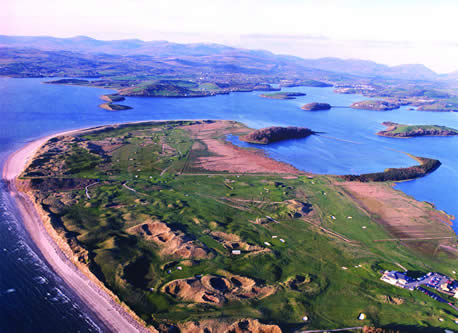 &nbsp &nbsp

Donegal Golf Club is on the Murvagh peninsula in Donegal Bay; hence it is generally known as Murvagh. The links is isolated from the outside world by a forest of evergreens washed on one side by the great Atlantic Ocean and by Donegal Bay on the others. It has a panoramic view of the Bluestack Mountains and the beach that runs along the Atlantic border is one of the finest in Ireland.

Murvagh has been described as the Muirfield of Ireland, similar in terrain with two loops of nine holes, the first nine an outer loop and the second nine an inner loop running in the opposite direction. At nearly 7,300 yards (championship) or 7,000 yards (medal) this course is long. The serious golfer needs to be at his or her best, while those less serious will still enjoy Donegal as it offers a chance on each hole to win a battle, if not the overall war.
---
Slieve League

&nbsp &nbsp

&nbsp &nbsp

&nbsp &nbsp

Glenveagh National Park

&nbsp &nbsp

&nbsp &nbsp

&nbsp &nbsp

Donegal Castle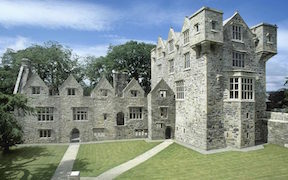 &nbsp &nbsp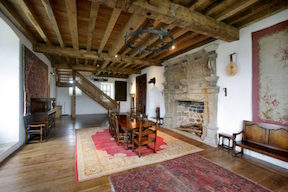 &nbsp &nbsp

THE WILD ATLANTIC WAY AND SO MUCH MORE TO SEE AND DO

Added to that is the chance to explore this stunning, unspoilt stretch of the Wild Atlantic Way by car, foot or bicycle. You will have the opportunity to get up close with majestic Donegal as it has stood for many years. There are many Donegal attractions in the surrounding area worth visiting. Sliabh Liag sea cliffs at 600m high drop down into the crashing waves of the Atlantic and will wow any visitor. Glenveagh National Park with its restored 19th century castle and magnificent gardens is also where the Golden Eagle has been re-introduced to Ireland. The views in the park are some of the best in Ireland.

There are also many vibrant, picturesque towns and villages in this part of Donegal where a warm welcome is always extended and where you will have the chance to listen to traditional Irish music and maybe even hear our native tongue!
---
---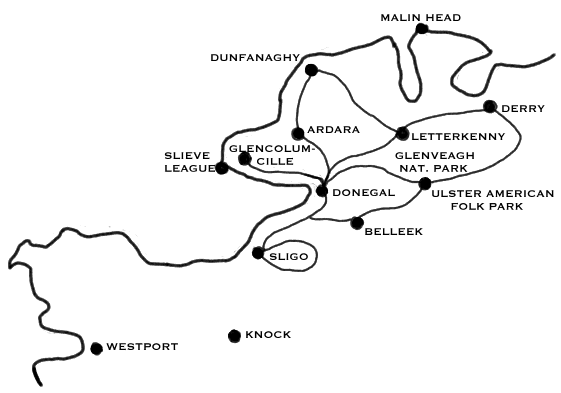 ---
SUGGESTED ITINERARY

Day 1
DONEGAL TOWN & LOUGH ESKE
You have two options for transport: by Hertz rental car or Private Car & Driver. Arrive at Dublin Airport, Shannon Airport, Sligo Airport or drive to County Donegal from another BASED vacation resort. . Enjoy the scenic drive to County Donegal and the seaside village of Rossnowlagh. The Sandhouse Hotel overlooks the Atlantic Ocean with a pristine beach in front on which to stroll and breathe in the fresh salt air! Once you're settled in you'll take a short drive into Donegal Town. Stroll about this interesting old town with 16th century castle ruins, a 17th century church and a ship's anchor shorn from one of Napolean's frigates when his fleet unsuccessfully tried to thwart the British in an Irish uprising in 1798. The center of town is diamond shaped, with streets spoking off in all directions with wool and tweed shops that line the street fronts. Be sure to stop at Magee of Donegal (hand woven tweeds) in the town center. View Donegal Castle. This imposing ruin which can be visited, stands on the bank of the River Eske. In 1505 the old castle which stood here was rebuilt by Red Hugh O'Donnell and became the O'Donnells' main stronghold. The structure was altered by Sir Basil Brooke, who was granted the castle in 1607. Its main feature is a massive rectangular gabled tower with two bartizan turrets. Attached to the south side is a fine Jacobean wing. Return to the Lough Eske Castle Hotel. Perhaps a stroll around the grounds before dinner? This evening enjoy a Welcome Dinner followed by an Irish Coffee. Dinner in the Cedars Restaurant this evening.

Note: each day during your stay you can avail of the many activities offered, such as golf or spa treatments. We can design your touring day around those activities as the Hertz Rental Car will be with you every day of your stay.

Day 2
GLENCOLUMCILLE & KILLYBEGS
We tour along the shores of Donegal Bay passing through Mountcharles, a fine village situated along a hillside over Donegal Bay. Continue to Dunkineely which is known for its fishing and where the MacSwayne castle walls still stand at St. John's Point. On to Killybegs, which looks like a late Victorian village built around a good harbor. It is a major commercial fishing port - as no doubt the smell will tell you. Tour to Glencolumcille with its brightly colored cottages. At Glen Head there is a church where St. Columcille worshipped. Visit the Folk Village Museum depicting life in rural Donegal. Nearby is Slieve League with the highest sea cliffs in Europe - the cliffs of Bunglass. We take a boat excursion from the village of Teelin to view the cliffs from below. Continue on to Ardara which is a well loved village and small wonder. It is an important center for the manufacture of Donegal handwoven tweeds and sweaters, produced from a thriving village which has gained a deserved reputation. Visitors may see hand looms in operation locally. Continue on to Glenties which is a "Tidy Town" village picturesquely situated where two glens converge. Return to Lough Eske Castle Hotel for a relaxing evening. Dinner on your own tonight. A chance to explore the other dining options in the hotel, including the Surfer's Bar.

Day 3
SLIGO & ENVIRONS
Tour on toward Sligo, where just before the town you take the road to Strandhill and visit the Carrowmore Megalithic Cemetery near Strandhill. It's the largest collection of stone age dolmens and tombs in all of Europe! As the largest cemetery of megalithic tombs in Ireland, the tombs are spread over a number of fields and townlands, most of them situated near the road. The majority of the tombs are a mixture of small Passage-tombs and dolmens, usually surrounded by a stone kerb, but most were probably originally covered by a stone mound. Often either the tomb itself or the kerb-stones have disappeared. In the area are a number of ring forts and standing stones as well as a stone with a hole in it. After your visit to Carrowmore, continue into Sligo Town. It dates back to 807 and is fascinating to visit. It must be said that Sligo is scarcely a town anymore. It now verges on being a city by Irish standards. Its bustling streets are among the busiest in the Northwest, and many of them are now one-way. Sligo has some exquisite, traditional shop fronts, and opposite the amazing 1878 Venetian Gothic courthouse a firm of lawyers bears the remarkable name of 'Argue & Phibbs' on its window! Just outside of Sligo Town is Lough Gill. With its 22 islands, it is surrounded by woodlands and mountains and is connected to Sligo Town by the Garavogue River. One of the lake's islands, Inisfree, was immortalized by William Butler Yeats in 'The Lake Isle of Innisfree.' Five miles due north, under the shadow of Ben Bulben Mountain is Drumcliffe, location of the churchyard where Yeats is buried. No visit to Ireland would be complete without a tour to the town of Belleek. You'll have an opportunity to tour the factory and see how the creamy pottery is made. Return to Lough Eske Castle Hotel for a relaxing evening. Dinner on your own tonight. A chance to explore the many pubs and restaurants of Donegal Town.

Day 4
ULSTER AMERICAN FOLK PARK & DERRY
Tour through the Bluestack Mountains and cross into Northern Ireland at Strabane. On to the Ulster American Folk Park. This open-air living history museum features costumed interpreters who reveal the experience of immigrants from Ulster to the United States during the 18th and 19th centuries. Continue into Derry City which enjoys one of the most beautiful situations in Ireland, rising evenly on both sides of the River Foyle. Derry City traces its beginning to St. Columba who set up his monastery here in 546. The impregnable city walls, begun in 1613, still remain as Derry's most notable feature. Among the many historic monuments in Derry, the city Walls on the west bank of the River Foyle are the most striking and memorable. Built between 1614 and 1619, the original Walls are almost perfectly preserved today, making Derry one of the finest examples of a walled city in Europe. Be sure to stop in at the Heritage Library located on Bishop Street in the center of the city. You'll find a dedication plaque in the lobby to Moira Hegarty O'Scannlain. You will enjoy a guided walking tour of this magnificent city. Walk the Walls and look into the Bogside. You drive through areas that display the murals depicting "The Troubles." From the height of Gob naSceil you'll have a panoramic vista of the city. Return to Lough Eske Castle Hotel for a relaxing evening. Dinner on your own tonight. Why not have a room service meal and enjoy it while looking at the view from your cozy room.

Day 5
GLENVEAGH NATIONAL PARK
Tour north from Donegal Town where north of Lough Eske, you'll come to the lonely yet fascinating Barnesmore Gap, formed by two enormous granite hills -Craogconnellagh (1,724 feet) and Barnesmore (1,491 feet). From earliest times this glacier carved trough has been a key route between southern and northern Donegal. As such, it was once a favored haunt of highwaymen, and this spot saw many a robbery. We continue north to the town of Letterkenny. Letterkenny is the chief town and ecclesiastical capital of County Donegal, overlooking Lough Swilly. The town's main street is one of the longest in Ireland. St. Eunice's Cathedral is a new building in the Gothic style. Climb into the scenic hills of County Donegal to Glenveagh National Park with its mountains, lakes, glens and woods, herd of red deer. Tour Glenveagh Castle, a Scottish style castle surrounded by one of the finest gardens in Ireland. Few of the great houses of Ireland are preserved in this condition with their original furnishings, and in Glenveagh Castle one catches a glimpse of a lifestyle belonging to an earlier age. Return to Lough Eske Castle Hotel. This evening you'll enjoy a Farewell dinner. Dinner in the dining room this evening.

Day 6
DEPART FOR HOME
Drive or transfer to Dublin Airport, Knock Airport or Shannon Airport and depart for home or continue your Self-Drive or Private car and driver touring to any other LUXURY BASED VACATION hotel.

Slan Leat!

---
You can make your Conn's Ireland Car Rental Hertz Ireland Exclusive Discounted rate by clicking the image below:

• HERTZ CAR RENTAL through Conn's Ireland Car Rental - Fully Inclusive Rate with NO Deductible and NO Hidden Charges
• Hertz Ireland was awarded the 2020 and 2021 World Travel Award as Ireland Leading Car Rental Company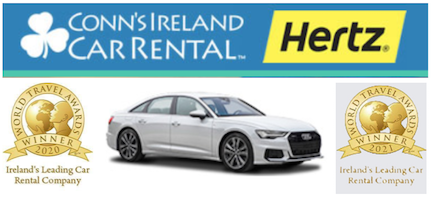 &nbsp &nbsp

*FULLY INCLUSIVE HERTZ CAR RENTAL Rates Include:


• Unlimited Mileage
• Collision Damage Waiver (CDW)
• SUPER CDW INCLUDED!
• 3RD PARTY LIABILITY INSURANCE!
• Personal Accident Insurance
• Theft Protection (TP)
• Location Service Charge (LSC)
• VAT (Value Added Tax)
• One-Way Drop Charge (If applicable)
• NO PAYMENT UNTIL CAR RENTAL IS COMPLETED
• EURO CAR RENTAL RATE GUARANTEED
• NO CANCELLATION PENALTIES
• NO Airport Counter Hassles!!
---


Just Want To Rent A Car?
Click Logo For
FULLY INCLUSIVE RATE
ZERO DEDUCTIBLE
---
Or forget about driving yourself and UPGRADE to our PRIVATE touring BASED VACATION with your own LUXURY TOURING VEHICLE AND EXPERIENCED Driver-Guide...

PRIVATE TOURING - Your own experienced Driver-Guide and
Luxury Touring Vehicle


&nbsp &nbsp

Senior Driver-Guide, Philip Smith with 30 years experience - Luxury Long-wheel-base Mercedes Viano - Custom Leather Interior with plenty of legroom


This is THE ULTIMATE way to enjoy a Self-Drive or Private Car & Driver tour of Ireland, including the popular sites and attractions. You'll experience the highlights of the country in a comfortably paced itinerary. Combine that with the highest quality accommodation and you'll have a wonderful vacation. Packed with historic sites, visits and entertainment, with all the features you wanted in a tour! You'll be in the EXPERIENCED hands of Conn O'Scannlain, CTC DS, getting the EXPERT advice from someone who has been doing Ireland tour planning for over 50 years! Rated "all 10s" by previous clients! Described by them as the "best planned, organized and enjoyed tour we have ever taken!" CUSTOM DESIGNED TO YOUR PERSONAL INTERESTS AND PREFERENCES - available ANYTIME - you set the dates!

You can call Conn or email him and let him know the best time to call you. Conn will have a conversation with you to find out your interests and preferences, as well as activities you may wish to enjoy. Then after After you pay an initial retainer of $350, (credited toward your tour price) we will take the time to provide a detailed proposal for you to review before you make your decision and commit to the full tour price. We are not the least expensive tour product, but WE ARE THE BEST! The features and inclusions of our PERSONALIZED & CUSOMIZED SELF-DRIVE TOURS are numerous. When you make your comparisons with other tour companies, take that into consideration. Our services provide a COMPREHENSIVE & COMFORTABLE experience, as well as an excellent value....and a very PERSONALIZED style of touring... to provide what our clients tell us are "An Irish Symphony of Perfection!"

YOUR LUXURY LOUGH ESKE CASTLE RESORT BASIC PACKAGE INCLUDES:

• Detailed Day-By-Day touring itinerary custom-designed by Conn
• Concierge Service - Services of our Ireland staff while touring
• Sightseeing each day, as you wish
• Accommodation with private bathroom for 5 nights
• Irish Breakfast each morning
• Welcome Dinner on First Evening
• Farewell Dinner on Last Evening
• DK Eyewitness Ireland Guide - 384 pages
• Collins Ireland Road Atlas
• Collins Folding Ireland Road Map
• Government Taxes
• Conn's Ireland Souvenir Gift
• Minimum 2 Tour Members


A LA CARTE OPTIONAL EXTRAS YOU CAN ADD TO THE BASIC PACKAGE:
• Accommodation UPGRADE to Suites available at SPECIAL rates
• Golf at Murvagh Golf Course
• Spa Treatment in the award winning hotel spa

---
- GET A PROPOSAL -
It is as simple as One, Two, Three
Step 1: Decide the date and number of days for your vacation
Step 2: How may persons in your party and whether you wish to enjoy a Self-Drive or Private Tour
Step 3: Call Conn at 316 361 0460 (Central Time) or email him at Conn@ConnsIreland.com
Conn will chat with you, send you an e-invoice the the $350 proposal retainer (credited to your tour price) which you can pay by credit card, and then prepare and email a detailed proposal for you to review.
Call or email Conn and get started planning your Luxury Based Ireland Vacation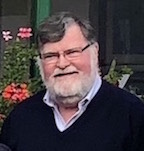 Conn O'Scannlain, CTC DS
President
50 Years of Ireland
Tour Planning
Email: Conn@ConnsIreland.com
Direct Tel: 316 361 0460
Central Time
---
Have more touring time? Consider combining this tour with the 6 Day MIDLANDS & SOUTHEAST 5 Star Luxury Based Tour
Click the Shamrock below
Continue to a new 'BASE' and tour out of CORK and the 5 Star The Heritage Golf & Spa Resort & Spa.

---
---